"The Violet Flame", Abstract Reiki-Inspired Visionary Art by Primal Painter
---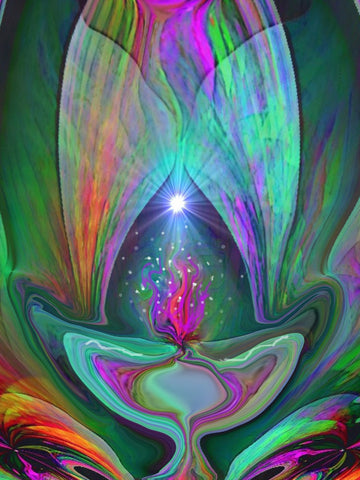 "The Violet Flame" is an abstract art print in my Reiki-inspired line of visionary art and would be an uplifting addition to a Reiki room, yoga studio, meditation or healing space, or any room in the house or office that could benefit from the color therapy and energetic qualities of metaphysical art. 
"The Violet Flame" - As an energy healing tool, this image symbolizes the violet flame where old undesirable energy and trauma can be discarded, released, and transmuted into positive energy through visualization, forgiveness, and intention. The violet flame is also called the flame of transmutation, freedom, and forgiveness.
8" x 10" size is available now but larger sizes are ordered and can take up to three weeks to receive.
Paper: Professionally printed on high-quality, glossy paper with an iridescent flash that catches the light and produces deep and vibrant colors.
Shipped through USPS
I believe that this image can be used as a tool for transformation and healing. Those who are sensitive to energy might feel a tingling or vibration, or a lift in mood and well-being.
My hope is that the right person will find this pendant at the right time and it will have a positive effect in every way.
To see all of my chakra jewelry, home decor, and metaphysical art, click here
Don't hesitate to be in touch if there are any questions.
All artwork, imagery, and image-specific wording are the intellectual property of Laurie Bain Hamilton (Primalpainter) and are copyright protected by the United States Copyright Office. Resale, reproduction, and reuse in any form or version including digital downloads is strictly prohibited unless permission is granted by Laurie Bain Hamilton. Sharing on social media and websites is encouraged as long as credit is given to Laurie Bain as the creator, along with this link: https://www.primalpainter.com
Related Products
---