Energy Art Angel Chakra Abstract Art Wall Decor Red Print 8x10
---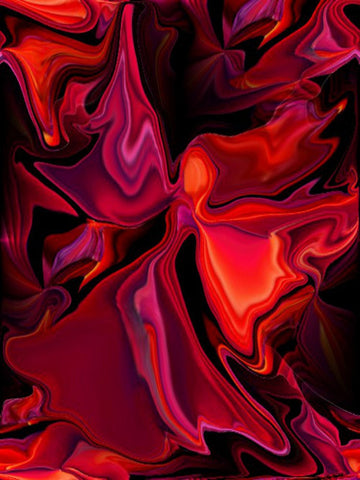 This energy art angel print entitled "First Chakra Clearing" is in my abstract art wall decor series and was created in April 2011.
As an energy artist, I seek to express the unseen energy all around us into something visual, intuitive and infused with healing properties.
The Facts:
__________________________________________________________________
Title: "First Chakra Clearing"
Dimensions: 8" x 10" size is available now. Enlargements are available by special order in sizes 11" x 14", 16" x 20", 20" x 24" and 24" x 36" but you won't receive them for 2-3 weeks.
Colors: Many shades of red, fuschia, orange, violet and black
Paper: Professionally printed on Kodak Professional Endura Metallic Paper. This paper is glossy with a pearlized shimmery glow that enhances the colors in a deep and vibrant way.
Finish: Signed, Dated, and Titled on the back
Shipping: Securely mailed through USPS First Class Mail
___________________________________________________________________
The Story:
"First Chakra Clearing" was inspired by some ongoing work I've been doing on my own root chakra. Several months ago, I did a painting of the first chakra called "The Portal" which got things opened up and moving. I evaluated my chakra system through the creation of an energy art print called "Chakra Angel" http://www.etsy.com/listing/73517367/chakra-angel-abstract-energy-art-blue and discovered that I needed to do more work on my first chakra and that's when "First Chakra Clearing" was born.
This image is beautiful to me, but also indicates a root chakra that has some rips and wounding, a chakra that needs some smoothing, clearing, and healing. The angel is looking a little fiery, she's burning out some debris and blockages.
She's primal and more intense than some of my other angels, but my intention is to heal and be authentic rather than being light and pretty just for the sake of visual appeal.
I focused on infusing the image with reiki healing energy throughout the entire process in the form of colors, light and patterns. I believe that this image could be used as a tool for healing and transformation. Those who are sensitive to energy will feel it in the form of vibrations, tingling or just a lift in mood and well being.
_____________________________________________________
I plan on incorporating this print into three dimensional wall sculptures, paintings, and reiki jewelry.
If there are any questions, don't hesitate to be in touch.
To see other energy art prints, groovy wall sculptures, and pendants, check out the rest of my shop at http://www. primalpainter.etsy.com INTERNATIONAL ORDERS: Some countries, (the UK, Canada, and more) may have additional customs fees and/or import/handling fees to pay upon receipt in your country. Please check into that before you order so that there aren't any unpleasant surprises!
All artwork, imagery, and image specific wording are the intellectual property of Laurie Bain Hamilton (Primalpainter) and are copyright protected by the United States Copyright Office. Resale, reproduction and reuse in any form or version including digital downloads is strictly prohibited unless permission is granted by Laurie Bain Hamilton. Sharing on social media and websites is encouraged as long as credit is given to Laurie Bain as the creator, along with this link: http://www.primalpainter.etsy.com
Related Products
---