Pastel Green Yellow and Pink Abstract Art - "The Vibe"
---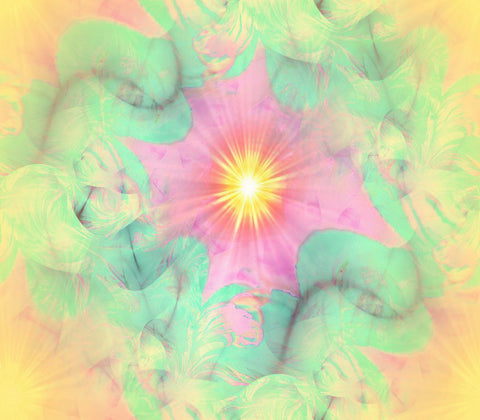 "The Vibe" is an abstract art print in my energy art line of reiki wall decor. 
It was created from a photo I took of the Dalai Lama and represents his favorite flower, the lotus which is a symbol of spiritual enlightenment. The sun in the center radiates his warmth and kindness, the colors represent his innocence and childlike nature.
_
Size: 8" x 10" size is available now. Enlargements are available by special order in sizes 11" x 14", 16" x 20", 20" x 24" and 24" x 36" but you won't receive them for 2-3 weeks.
Paper: Kodak Endura Metallic Photo Paper This paper is very glossy and has an interesting metallic flashiness .
Colors: Yellows, golds, pinks, pale greens, sage, white
Shipping: Your print will be securely shipped through USPS 
I believe that this image could be used as a tool for transformation and healing. Those who are sensitive to energy might feel a tingling or vibration, or maybe a lift in mood and well-being.
To see all of my chakra jewelry, home decor, and metaphysical art, click here
Don't hesitate to be in touch if there are any questions.
All artwork, imagery, and image-specific wording are the intellectual property of Laurie Bain Hamilton (Primalpainter) and are copyright protected by the United States Copyright Office. Resale, reproduction, and reuse in any form or version including digital downloads is strictly prohibited unless permission is granted by Laurie Bain Hamilton. Sharing on social media and websites is encouraged as long as credit is given to Laurie Bain as the creator, along with this link: https://www.primalpainter.com
Related Products
---